Family Pictures
1999
Christmas of 1999 will always be a special one for us. What a wonderful time of year when you get to be with all your family at once.
Our Christmas eve started at my moms with the pictures below taken. As my kids are growing it's nice to see the grandchildren starting to take over the chaos of tearing open presents *L*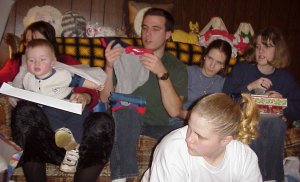 Starting from left: Grandson William, his mommy hiding behind him,
Son Christian, Daughters - Kendra, Casey, and Katie (in front)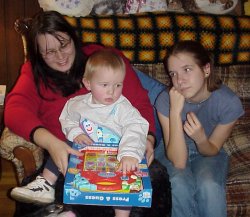 Daughter-in-law Kelly, Grandson William & Kendra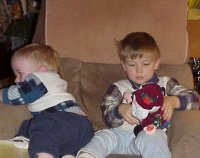 William & Harley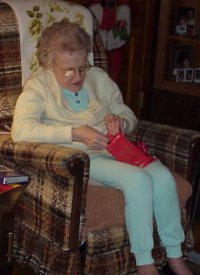 My Grandma :)
Christmas day was a very special day indeed. I must tell you a story .... telling on myself now big time *L*
Everyone knows that I DON'T COOK!!! Well last year I cooked Christmas dinner and I of course took all the shortcuts ... I used Instant Mashed Potatos *G* Welllllllllllll ..... I see my Grandma still ... sitting at the table small and frail enjoying Christmas Dinner and her words cut into my mind like a knife as she sat there praising me for my wonderful meal I put on saying ..... "It's soooo nice to be here eating real food, I hate those instant potatoes they feed us in the nursing home." OHHHHHHHHH dear *LOL* as I reached behind me on the counter and slid the empty box of instant potatos aside. *ROFL* Everyone else at the table just looked at me and silently laughed along with giving me the evil eye. No one dared spoil Grandma's Christmas by telling her she was eating instant potatos ...
WELLLLLLLLLLLL needless to say ... I cooked Christmas dinner this year again .... . I was blessed to have my Grandma here with me again ... and I'll tell you .... she got her REAL mashed potatos for her dinner .... :) I peeled, cooked and I mashed them suckers myself.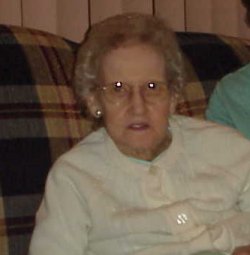 Always treasure your grandma :)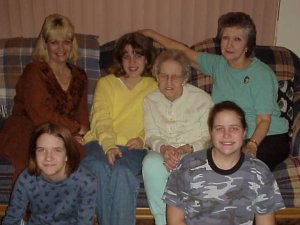 4 Generation of Family
Grandma, Mom, Me & 3 daughters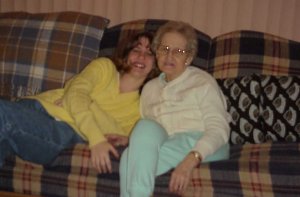 Casey & Grandma
| | |
| --- | --- |
| Hubby | Daddy |
Men are always soooooooooo happy on Christmas ahhahahaah