Katie & Andrew Wedding
September 10, 2005
These are just a few pictures captured with my digital camera.
There are many pictures that are not here but will be added after films are developed.
If you captured a particularly nice one, please email it to me. :)
| | |
| --- | --- |
| 1977 | 2005 |
Who would have thought when I wore my wedding dress that 28 years later my daughter would want to wear it too

4 Generations
Katie with Grammie and Grumpa
I think it was a put up job that Kendra caught the bouquet and her boyfriend caught the garter.
While everyone else was yelling yeah and hurray ... her Mom and Dad was saying ..ohhhhh nooooooo !!! *L*
Words of Wisdom to the Groom prior to the feeding of the cake !!!!!
Andrew DON'T DO IT !!!! He didn't .. .. He's off to a good start .. listening to his inlaws .. hee hee !!
The little cake top looking a bit old and yellowed but still wanted by Katie
was also on her mom and dad's cake those 28 years ago.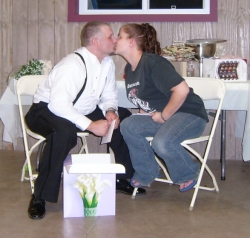 The end of a beautiful day